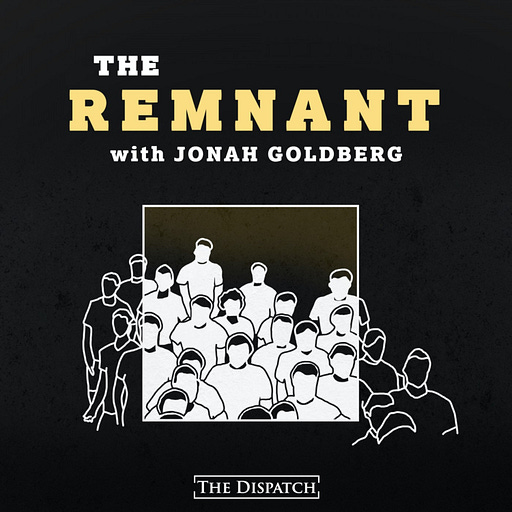 Nov 13, 2020 • 1HR 41M
You Boys Must Be Crazy
In "The Remnant," Jonah Goldberg, the founder and editor-in-chief of The Dispatch, syndicated columnist, best-selling author, and AEI/NRI Fellow enlists a "Cannonball Run"-style cast of stars, has-beens, and never-weres to address the most pressing issues of the day and of all-time. Is Western Civilization doomed? Is nationalism the wave of the future? Is the Pope Catholic? Will they ever find a new place to put cheese on a pizza? Is Die Hard a Christmas movie? Who is hotter: Ginger or Mary-Ann? Was Plato really endorsing the Republic as the ideal state? Mixing history, pop culture, rank-punditry, political philosophy, and, at times, shameless book-plugging, Goldberg and guests will have the kinds of conversations we wish they had on cable-TV shout shows. And the nudity will (almost) always be tasteful.
On today's program, Jonah chats with an old friend who will definitely NOT polarize the Remnant audience whatsoever (If we wish hard enough then it has to come true, right?): National Review's Kevin Williamson. Williamson is out with a new book, Big White Ghetto. Jonah sets up Kevin for a heaping helping of rank punditry to start things off before moving into some book-talk and some eggheadery. In addition to Jonah's efforts to make Kevin explicate his self-described political ideology ("anarcho-capitalist Eisenhower libertarian"), the two also discuss the ways in which America's titular big white ghetto actually, well, became a ghetto, and what the solutions might be for the people who feel trapped in struggling communities. In Kevin's mind, part of the issue is that no one in politics is comfortable saying something that is obviously true: "Cities and towns disaggregate and disincorporate over time, and I don't think there's anything wrong with that. But this is also why I'm not running for office."
Show Notes:
-Kevin's new book, definitely in the running for "Greatest Subtitle Ever" – Big White Ghetto: Dead Broke, Stone-Cold Stupid, and High on Rage in the Dank Woolly Wilds of the "Real America"
-Karl Rove: This election won't be overturned
-Gangsters don't have a retirement plan
-Dee Dee Myers appearing generally confused
-Jonah's piece on Republicans and cities
-Kevin, reporting from Eastern Kentucky
-The most recent Dispatch Podcast
-Eisenhower's response to the prospect of dropping nukes on Dien Bien Phu
-The Remnant with John McWhorter
See omnystudio.com/listener for privacy information.