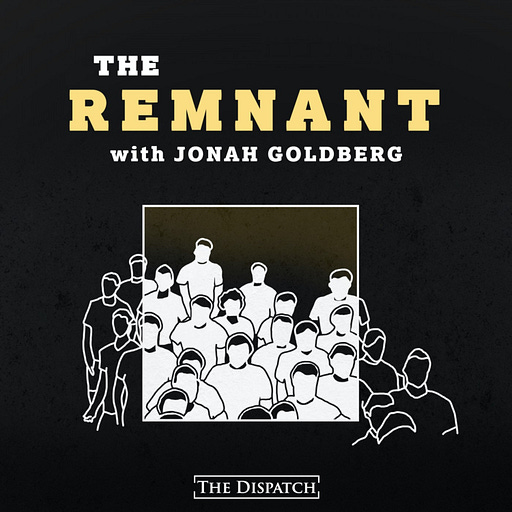 Nov 18, 2020 • 1HR 13M
Where Do We Go Now?
In "The Remnant," Jonah Goldberg, the founder and editor-in-chief of The Dispatch, syndicated columnist, best-selling author, and AEI/NRI Fellow enlists a "Cannonball Run"-style cast of stars, has-beens, and never-weres to address the most pressing issues of the day and of all-time. Is Western Civilization doomed? Is nationalism the wave of the future? Is the Pope Catholic? Will they ever find a new place to put cheese on a pizza? Is Die Hard a Christmas movie? Who is hotter: Ginger or Mary-Ann? Was Plato really endorsing the Republic as the ideal state? Mixing history, pop culture, rank-punditry, political philosophy, and, at times, shameless book-plugging, Goldberg and guests will have the kinds of conversations we wish they had on cable-TV shout shows. And the nudity will (almost) always be tasteful.
Jonah the Globetrotter has once again scattered to the four winds, temporarily leaving The Remnant once more in the capable hands of David French. Today, David speaks with his good friend Yascha Mounk, contributor to The Atlantic and founder of Persuasion. Mounk talks us through the current conditions within mainstream media outlets and how those institutions have the opportunity to lower the temperature of American discourse now that Trump is leaving office. David also talks about how a Biden administration might be expected to behave, and Yascha mentions that much of the conventional wisdom about the presidential election results are not only misguided, but that they often "underestimate the intelligence of the American people."
Show Notes:
-David's newsletter, The French Press
-Yascha's new publication, Persuasion
-The earliest mention of "nutpicking" that the Remnant crew could find
-Jonathan Haidt's Heterodox Academy
See omnystudio.com/listener for privacy information.