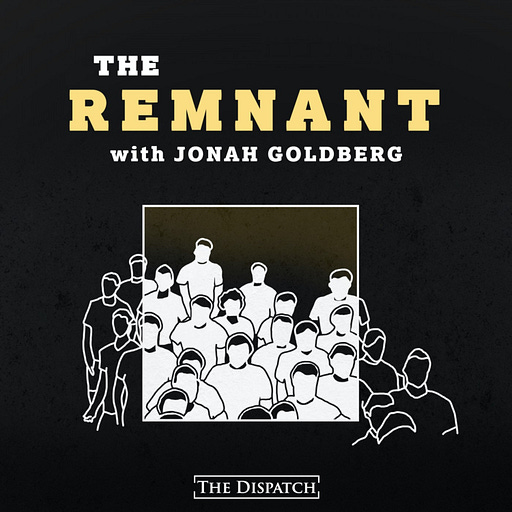 Nov 10, 2020 • 1HR 11M
The Trump Canon
In "The Remnant," Jonah Goldberg, the founder and editor-in-chief of The Dispatch, syndicated columnist, best-selling author, and AEI/NRI Fellow enlists a "Cannonball Run"-style cast of stars, has-beens, and never-weres to address the most pressing issues of the day and of all-time. Is Western Civilization doomed? Is nationalism the wave of the future? Is the Pope Catholic? Will they ever find a new place to put cheese on a pizza? Is Die Hard a Christmas movie? Who is hotter: Ginger or Mary-Ann? Was Plato really endorsing the Republic as the ideal state? Mixing history, pop culture, rank-punditry, political philosophy, and, at times, shameless book-plugging, Goldberg and guests will have the kinds of conversations we wish they had on cable-TV shout shows. And the nudity will (almost) always be tasteful.
In the Before Times, when we'd all walk around bookstores putting our dangerously diseased digits on various tomes without a care in the world, did you notice a recurring phenomenon? It's been the case for the past few years that the nonfiction sections of any major bookstore are filled with a glut of "Trump era" books – either memoirs from officials, books attempting to psychologize the man himself, or vaguely rant-y polemics that are big on rhetoric but light on substance. What if, hypothetically, you wanted to torture yourself by entering a purgatory-like state in which you read around 150 of those things? That's what Carlos Lozada – book critic for the Washington Post – did so that you don't have to.
Today, Jonah speaks with Lozada about how he was able to synthesize the "Trump canon" into a set of identifiable narratives about this moment in American politics, eventually resulting in his own new book, What Were We Thinking: A Brief Intellectual History of the Trump Era.
Show Notes:
-Carlos' book, What Were We Thinking
-Jonah on The Greening of America: "Stupendously awful"
-Miles Taylor, "senior administration official"?
-The largely unread followup to Fire and Fury
-Don McGahn's crazy 2 years in the administration
-Carlos reviews Michael Cohen's bizarre book
See omnystudio.com/listener for privacy information.