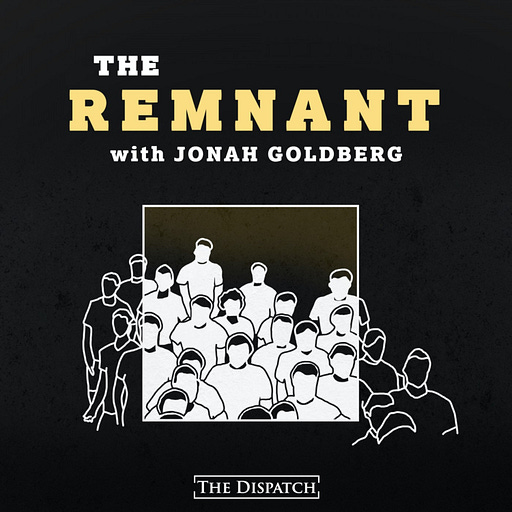 Oct 22, 2020 • 1HR 13M
The Republican Brain Drain
In "The Remnant," Jonah Goldberg, the founder and editor-in-chief of The Dispatch, syndicated columnist, best-selling author, and AEI/NRI Fellow enlists a "Cannonball Run"-style cast of stars, has-beens, and never-weres to address the most pressing issues of the day and of all-time. Is Western Civilization doomed? Is nationalism the wave of the future? Is the Pope Catholic? Will they ever find a new place to put cheese on a pizza? Is Die Hard a Christmas movie? Who is hotter: Ginger or Mary-Ann? Was Plato really endorsing the Republic as the ideal state? Mixing history, pop culture, rank-punditry, political philosophy, and, at times, shameless book-plugging, Goldberg and guests will have the kinds of conversations we wish they had on cable-TV shout shows. And the nudity will (almost) always be tasteful.
Last time Tim Alberta, Politico's chief political correspondent, was on the program, life in America was crazy, but in a typical, everyday, post-2016 kind of way. We figured that it was time to have him back now that we're in the process of rushing towards a new form of crazy at Spaceballs-levels of ludicrous speed ("They've gone plaid!"). Tim takes us through some of the issues that voters in purple states actually seem to care about (Hint: The Hunter Biden drama isn't one of them) while also touching on the confusing lack of a substantive foreign policy debate in this election cycle, the simpler times of the Christmas Tree tax and the Dubai ports deal, and the shocking value-add provided to one's life by the purchase of an Arby's gyro.
Show Notes:
-Get tickets for The Dispatch's "What's Next" event
-American CarnageTim's most recent book,
-Matt Glassman talks about the lack of a foreign policy discussion
-Jonah on the 2006 Dubai ports deal
-Congress slowly spending more time on memes
-KittyPooClub.com, enter promo code DINGO for 20% off your first order
-Bradleyfdn.org/Liberty to watch the latest episode of We The People with Justin Danhof
See omnystudio.com/listener for privacy information.