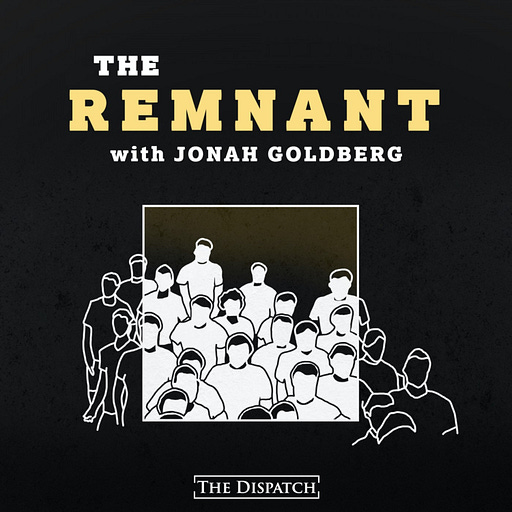 Oct 6, 2020 • 1HR 8M
The Bottom of the (Spanish Wine) Barrel
In "The Remnant," Jonah Goldberg, the founder and editor-in-chief of The Dispatch, syndicated columnist, best-selling author, and AEI/NRI Fellow enlists a "Cannonball Run"-style cast of stars, has-beens, and never-weres to address the most pressing issues of the day and of all-time. Is Western Civilization doomed? Is nationalism the wave of the future? Is the Pope Catholic? Will they ever find a new place to put cheese on a pizza? Is Die Hard a Christmas movie? Who is hotter: Ginger or Mary-Ann? Was Plato really endorsing the Republic as the ideal state? Mixing history, pop culture, rank-punditry, political philosophy, and, at times, shameless book-plugging, Goldberg and guests will have the kinds of conversations we wish they had on cable-TV shout shows. And the nudity will (almost) always be tasteful.
Since the first six days of October 2020 have felt like 87 years, who's better to sift through everything that has happened than one of The Dispatch's own quadrumvirate of podcasters, Steve Hayes? Here to give Jonah the inside scoop on some of the background reporting he's done for The Morning Dispatch, Steve has some ideas about how Trump's overly-cinematic return to the White House could've been handled better, why there was a communication breakdown between Trump's medical staff and his PR people, and, most mysteriously, what on God's green earth Mark Meadows has been trying to do for the past few days.
Beyond these more Machiavellian machinations, they also delve into some of the downright silliness that's gone on – such as the new pessimism that anything can even be done to stop COVID, since it's a contagious disease (the stamping out of which has characterized ("Uh… literally the entire history of human civilization," in Jonah's words). They also give an update on the State of The Dispatch, and ponder what their place in the conservative media landscape may look like in a post-Trump era – whether that's sooner or later.
Show Notes:
-The Dispatch30-day trial at , ends Thursday Oct. 8th at midnight
-Watch as Sean Conley awkwardly flails
-A history of the administration's bipolar relationship with Fauci
-"Why do we actually think we can stop the progression of a contagious disease?" – A thing unironically said by an elected official
-Mike Pence's confessional piece on his negative campaign in Indiana
-The Dispatch's opening manifesto
-DonorsTrust.org/Dingo to receive "6 Reasons to Use a Donor-Advised Fund"
-Go to CaucusRoom.com to experience a social network by and for conservatives
See omnystudio.com/listener for privacy information.