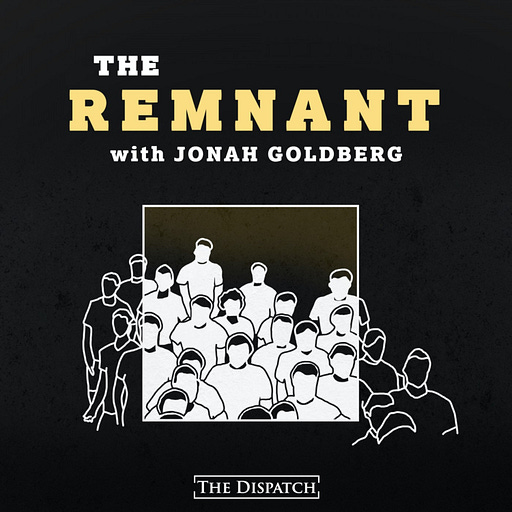 Sep 25, 2020 • 1HR 4M
Style, Substance, and The Stage
In "The Remnant," Jonah Goldberg, the founder and editor-in-chief of The Dispatch, syndicated columnist, best-selling author, and AEI/NRI Fellow enlists a "Cannonball Run"-style cast of stars, has-beens, and never-weres to address the most pressing issues of the day and of all-time. Is Western Civilization doomed? Is nationalism the wave of the future? Is the Pope Catholic? Will they ever find a new place to put cheese on a pizza? Is Die Hard a Christmas movie? Who is hotter: Ginger or Mary-Ann? Was Plato really endorsing the Republic as the ideal state? Mixing history, pop culture, rank-punditry, political philosophy, and, at times, shameless book-plugging, Goldberg and guests will have the kinds of conversations we wish they had on cable-TV shout shows. And the nudity will (almost) always be tasteful.
Jonah's longtime friend Tevi Troy makes his second appearance on the program, this time to discuss not only the history of presidential debates, but also to share some info on how the sausage gets made from his time doing debate prep for George W. Bush. Beyond simply recounting some of the best zingers in the history of these debates ("The youth and inexperience of my opponent…" "You're no Jack Kennedy."), they discuss the degree to which these moments are actually staged, and how the pretzel-like overcomplicated logic of certain debate preppers actually contribute to their candidate looking pretty silly on national TV. Keeping this history in mind, Tevi also talks about what he'll be looking for in the upcoming debates (both campaigns should be taking notes, honestly), and happily discovers that he has reached "Vin Cannato Equilibrium" in the canon of the REU (Remnant Extended Universe).
Show Notes:
-The Dispatch30-day free trial at
-Fight HouseTevi's latest book,
-George H. W. Bush looks at his watch
-"Conservatism as a Second Language"
-Intra-American migration due to COVID
-Biden decides to be, uh, pugilistic towards Paul Ryan
See omnystudio.com/listener for privacy information.