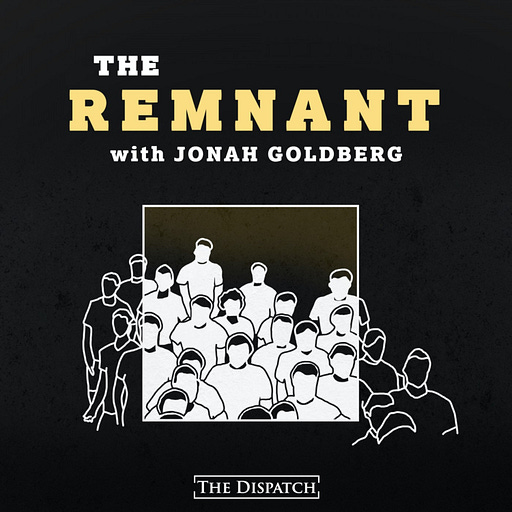 Oct 3, 2020 • 1HR 7M
Punditry, By the Book
In "The Remnant," Jonah Goldberg, the founder and editor-in-chief of The Dispatch, syndicated columnist, best-selling author, and AEI/NRI Fellow enlists a "Cannonball Run"-style cast of stars, has-beens, and never-weres to address the most pressing issues of the day and of all-time. Is Western Civilization doomed? Is nationalism the wave of the future? Is the Pope Catholic? Will they ever find a new place to put cheese on a pizza? Is Die Hard a Christmas movie? Who is hotter: Ginger or Mary-Ann? Was Plato really endorsing the Republic as the ideal state? Mixing history, pop culture, rank-punditry, political philosophy, and, at times, shameless book-plugging, Goldberg and guests will have the kinds of conversations we wish they had on cable-TV shout shows. And the nudity will (almost) always be tasteful.
This weekend's Ruminant features Jonah running through a set of possible scenarios that might play out given President Trump's COVID diagnosis – if we do say so ourselves, it's a positively David French-like methodology given the approach to David's new book (Out now!). Will Trump be able to do a Zoom debate? Will Mike Pence have the opportunity to do more than he currently does (which, as of now, seems to be standing completely still in a pensive silence like a sculpture of a Roman general)?
Then, Jonah discusses the current partisan tendency for "both the right and the left [to] weaponized norms," chastising opponents for hypocrisy while refusing to adopt responsibility for their own flubs that damage the constitutional order. He explores the ways in which this manifests in both the nationalism debates as well as the current SCOTUS mess, and how the more intellectually serious proponents of nationalism can't seem to decide whether they actually like to play by the rules or make things up as they go. All of this is followed up by a veritable potpourri of quick hits: Inside baseball on how syndicated column publishing works, how dumb the tax code is, steaks, dogma, and more.
Show Notes:
-Just in case you were wondering about how the Swiss executive branch works, since it comes up here rather often
-Trump's battleground state polls are… not great
-Dispatch Podcast The on the debate
See omnystudio.com/listener for privacy information.