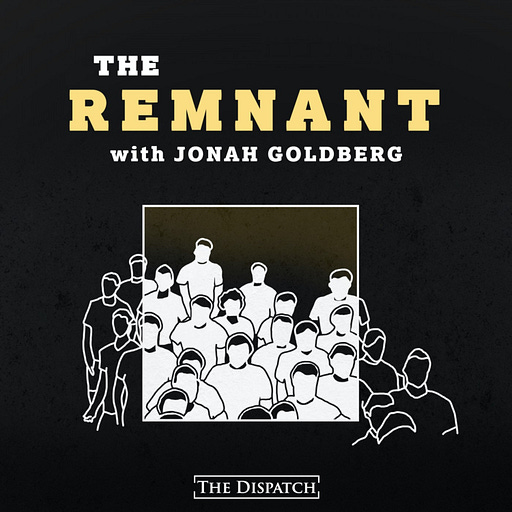 May 25, 2021 • 1HR 23M
Prelude to a Hangover
In "The Remnant," Jonah Goldberg, the founder and editor-in-chief of The Dispatch, syndicated columnist, best-selling author, and AEI/NRI Fellow enlists a "Cannonball Run"-style cast of stars, has-beens, and never-weres to address the most pressing issues of the day and of all-time. Is Western Civilization doomed? Is nationalism the wave of the future? Is the Pope Catholic? Will they ever find a new place to put cheese on a pizza? Is Die Hard a Christmas movie? Who is hotter: Ginger or Mary-Ann? Was Plato really endorsing the Republic as the ideal state? Mixing history, pop culture, rank-punditry, political philosophy, and, at times, shameless book-plugging, Goldberg and guests will have the kinds of conversations we wish they had on cable-TV shout shows. And the nudity will (almost) always be tasteful.
Fan-favorite Jonah soundalike Chris Stirewalt is back for a Remnant so nerdtastic that even Joe Biden could mock its lack of coolness. With antisemitic attacks on the rise, the GOP resisting a January 6 commission, and primaries continuing to exist, there's plenty for Dr. Stirewalt to kvetch about, and Jonah has enough Hayek references on hand to join him. Yet Chris has more to reveal than his disdain for the common good. Starting this week, he'll be hosting a new podcast focused on the history of modern conservatism that will (briefly!) replace the Thursday Remnant. Have no fear, however, because the change comes with Jonah's sacred blessing. Stick around until the end of the episode to hear all the boozy details. (it's called The Hangover, and don't worry: It will also have its own podcast feed.)
Show Notes:
- Last Thursday's Remnant on Jonah's Old Testament heritage
- Michelle Goldberg: "Attacks on Jews Over Israel are a Gift to the Right"
- Hivemind, by Sarah Rose Cavanagh
- NYT: "Why Stacey Abrams is Still Saying She Won"
- Chris and Sarah: "The Kenosha Effect"
- Chris: "Republicans Should First Ask How, Not Who"
- Bret Stephens on Krauthammering
- Biden's allergies and asthma
- Alexander William Salter: "'Common Good' Conservatism's Catholic Roots"
- Jonah: "Why the GOP is Terrified of a Jan. 6 Commission"
- McConnell's commission stance influences GOP senators
- Do 53 percent of Republicans still think Trump is the president?