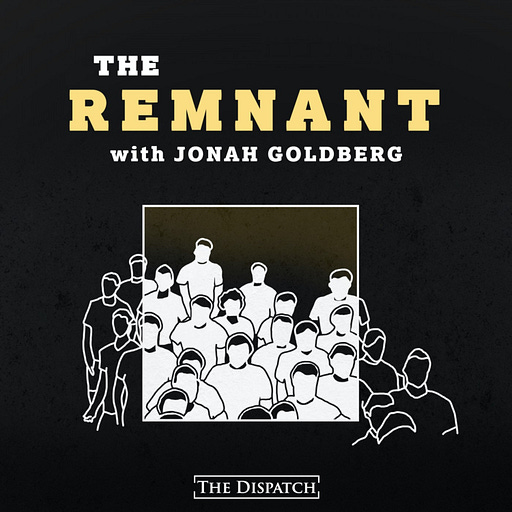 Mar 12, 2020 • 1HR 25M
Merci, Monsieur Douthat
In "The Remnant," Jonah Goldberg, the founder and editor-in-chief of The Dispatch, syndicated columnist, best-selling author, and AEI/NRI Fellow enlists a "Cannonball Run"-style cast of stars, has-beens, and never-weres to address the most pressing issues of the day and of all-time. Is Western Civilization doomed? Is nationalism the wave of the future? Is the Pope Catholic? Will they ever find a new place to put cheese on a pizza? Is Die Hard a Christmas movie? Who is hotter: Ginger or Mary-Ann? Was Plato really endorsing the Republic as the ideal state? Mixing history, pop culture, rank-punditry, political philosophy, and, at times, shameless book-plugging, Goldberg and guests will have the kinds of conversations we wish they had on cable-TV shout shows. And the nudity will (almost) always be tasteful.
New York Times columnist and resident French expert Ross Douthat returns once more to talk about his new book, The Decadent Society. He makes the case that decadence is more than just high-calorie desserts and rich Corinthian leather; the phenomenon is more about the space race, the birth dearth, our dumb Hollywood blockbusters, and our painful politics. Oh, and the coronavirus has turned him into a doomsday prepper. But Ross is a Bonhomme if you will, so we're betting he survives his book tour unscathed.
Show Notes:
-Ross' book, The Decadent Society
-Daniel Kahneman on thinking fast and slow
-The evils of the coronavirus distributors in public bathrooms
-The process of recording an audiobook
-Peter Thiel and his "almost lifelike" enunciation
-Jacques Barzun's From Dawn to Decadence
-Suicide of the West, now out in paperback!
-F.J. Turner's Frontier thesis
-Where UN peacekeepers have succeeded, and where they've failed
-Robert Nisbet's recounting of the WWI horse problem
-Tina Fey on Conan O'Brien's podcast
-DoorDash, promo code REMNANT
See omnystudio.com/listener for privacy information.