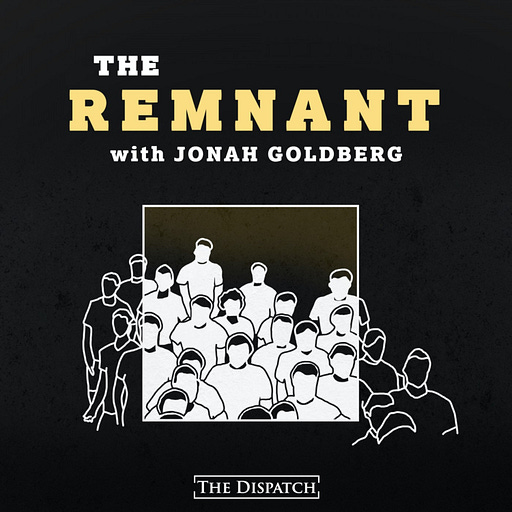 Jan 22, 2021 • 1HR 17M
Jack Gets Back
In "The Remnant," Jonah Goldberg, the founder and editor-in-chief of The Dispatch, syndicated columnist, best-selling author, and AEI/NRI Fellow enlists a "Cannonball Run"-style cast of stars, has-beens, and never-weres to address the most pressing issues of the day and of all-time. Is Western Civilization doomed? Is nationalism the wave of the future? Is the Pope Catholic? Will they ever find a new place to put cheese on a pizza? Is Die Hard a Christmas movie? Who is hotter: Ginger or Mary-Ann? Was Plato really endorsing the Republic as the ideal state? Mixing history, pop culture, rank-punditry, political philosophy, and, at times, shameless book-plugging, Goldberg and guests will have the kinds of conversations we wish they had on cable-TV shout shows. And the nudity will (almost) always be tasteful.
Join Jonah and special guest Jack Butler, his former research assistant for the tricentennial episode. It's the best of both worlds as the program recalls its greatest hits (conspiracies about the Soviets, Bigfoot Erotica, The Episode that Shall Not be Named, and, of course, Jokes at Jack's expense) while also breaking into new territory. The guys talk about the conflict between college Republicans who got into politics just to be edgy versus the more thoughtful millenials and Zoomers who actually hold convictions, and about how "for the first time in more than four years, conservative politics do not have to flow through the person of Donald Trump."
Show Notes:
- The Remnant with Joseph Uscinski (or, as Jack said in an interesting instance of spoonerism, "Douglas Urbanski")
- Werner Herzog being vaguely horrified by Grizzly Man audio
- Bigfoot Erotica: Origin Stories
- "The Swamp: An affectionate farewell"
- The "Uncomfortable Learning" program at Williams College has a strange history
- Jack's profound disappointment with Madison Cawthorn
- Jack ponders the possibilities of Amazon's show in Middle-Earth
- Dan McLaughlin on what comes after Trump
- Zhou Enlai on the French Revolution: "Toon soon to tell"
- Community: Nick Cage, good or bad?
See omnystudio.com/listener for privacy information.