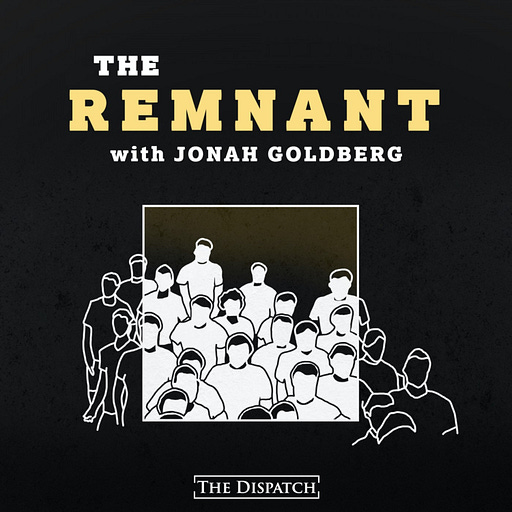 Sep 29, 2020 • 1HR 19M
Intravenous Gin Drip
In "The Remnant," Jonah Goldberg, the founder and editor-in-chief of The Dispatch, syndicated columnist, best-selling author, and AEI/NRI Fellow enlists a "Cannonball Run"-style cast of stars, has-beens, and never-weres to address the most pressing issues of the day and of all-time. Is Western Civilization doomed? Is nationalism the wave of the future? Is the Pope Catholic? Will they ever find a new place to put cheese on a pizza? Is Die Hard a Christmas movie? Who is hotter: Ginger or Mary-Ann? Was Plato really endorsing the Republic as the ideal state? Mixing history, pop culture, rank-punditry, political philosophy, and, at times, shameless book-plugging, Goldberg and guests will have the kinds of conversations we wish they had on cable-TV shout shows. And the nudity will (almost) always be tasteful.
Join Jonah on today's episode of The Remnant with our first-time guest: CBS's John Dickerson. The subjects included in John's latest book, The Hardest Job in the World, will allow you to get a fix of incredible nerdiness about presidential history in equal proportion to your daily recommended dosage of rank punditry. Why is it that we've made the presidency, in John's words "essentially an impossible job"? Another shock: Many of the parts of presidential decorum that we consider par for the course are actually pretty ahistorical, and John makes the case that this weird, patristic view of the presidency in which the Executive has to appear in person at every important going-on throughout the country actually erodes some of the prudential, quiet, considered principles meant to undergird the job. Oh, and there's some mutual Wilson-bashing in store as well, which is always a bonus.
Show Notes:
-The Hardest Job in the World: The American PresidencyJohn's book,
-Franklin's final speech at the Constitutional Convention
-Theodore Roosevelt and "scientific management"
-FDR flying into Chicago to accept the nomination in person
-Book of VirtuesBill Bennett's
-Ancestry.com/Remnant to discover your story
-Harrys.com/Dingo to receive your free trial offer today
See omnystudio.com/listener for privacy information.