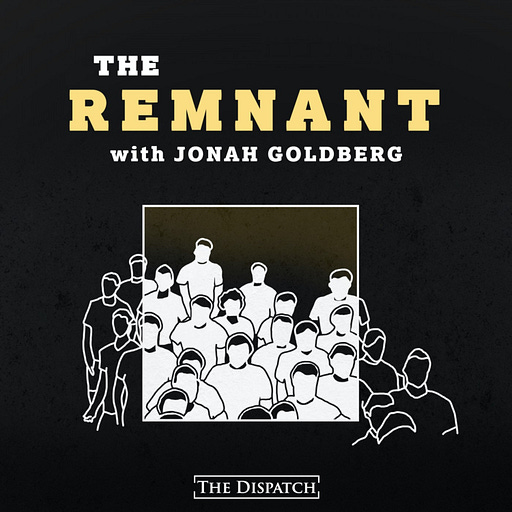 Oct 30, 2021 • 1HR 16M
Heretics of Dune
In "The Remnant," Jonah Goldberg, the founder and editor-in-chief of The Dispatch, syndicated columnist, best-selling author, and AEI/NRI Fellow enlists a "Cannonball Run"-style cast of stars, has-beens, and never-weres to address the most pressing issues of the day and of all-time. Is Western Civilization doomed? Is nationalism the wave of the future? Is the Pope Catholic? Will they ever find a new place to put cheese on a pizza? Is Die Hard a Christmas movie? Who is hotter: Ginger or Mary-Ann? Was Plato really endorsing the Republic as the ideal state? Mixing history, pop culture, rank-punditry, political philosophy, and, at times, shameless book-plugging, Goldberg and guests will have the kinds of conversations we wish they had on cable-TV shout shows. And the nudity will (almost) always be tasteful.
On today's special Ruminant, Jonah assembles a Mount Rushmore of geekdom (David French, Haley Byrd Wilt, and Jack "Butlerian jihad" Butler) to review Denis Vileneuve's movie adaptation of Frank Herbert's Dune. Be prepared for perhaps the nerdiest episode ever, as the quartet explores why it took so long for a Dune movie to be produced (David Lynch's doesn't count), what the film got right, and whether any elements of the book were unjustly left out. There's also broader discussion mixed in on the awfulness of the Star Wars prequels, the best movie adaptations of great sci-fi novels, and why sci-fi as a genre is inherently conservative. Muad'dib!
Show Notes:
- Frank Herbert's Dune novels, for the uninitiated
- David Lynch's Dune adaptation, best left forgotten?
- Haley's Dune-filled Twitter feed
- National Review now has a Dune tag
- The Three-Body Problem, by Cixin Liu