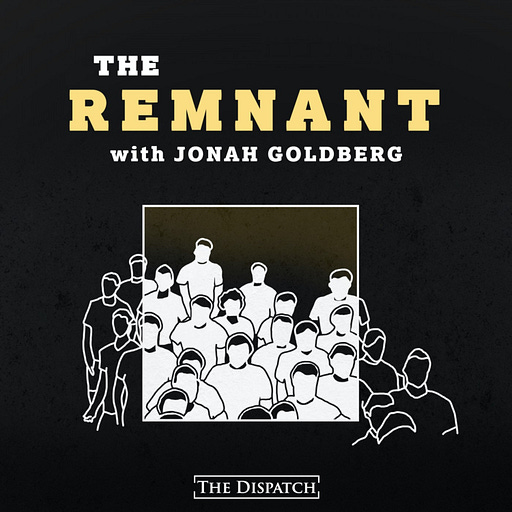 Nov 21, 2020 • 1HR 6M
Ditching the Seating Chart
In "The Remnant," Jonah Goldberg, the founder and editor-in-chief of The Dispatch, syndicated columnist, best-selling author, and AEI/NRI Fellow enlists a "Cannonball Run"-style cast of stars, has-beens, and never-weres to address the most pressing issues of the day and of all-time. Is Western Civilization doomed? Is nationalism the wave of the future? Is the Pope Catholic? Will they ever find a new place to put cheese on a pizza? Is Die Hard a Christmas movie? Who is hotter: Ginger or Mary-Ann? Was Plato really endorsing the Republic as the ideal state? Mixing history, pop culture, rank-punditry, political philosophy, and, at times, shameless book-plugging, Goldberg and guests will have the kinds of conversations we wish they had on cable-TV shout shows. And the nudity will (almost) always be tasteful.
After filing a more-spirited-than-average G-File, Jonah joins us for the weekend Ruminant. Today, he talks about how certain individuals associated with Trump seem determined to end their careers in ignominy, as well as discussing many other phenomena, such as America's oversaturation of elites, the necessity of reading people with whom you disagree, the inadequacy of applying the left-right spectrum to American politics, what the possible consolidation of fringe-right news stations might look like, and how genuine post-Trump conservatism "is almost, in certain way, the same as [if it was] pre-Trump." And, of course, the most exciting news in Jonah's world right now? How a calmer political environment means that he can write about more interesting stuff.
Show Notes:
-Tucker Carlson almost closes the circle, but doesn't make it quite there
-The entire Dispatch team descends on the Cuomo Emmy news
-A legendary piece of Goldbergian hagiography – Gargoyles: Guardians of the Gate
-The quotable Erik von Kuehnelt-Leddihn
See omnystudio.com/listener for privacy information.