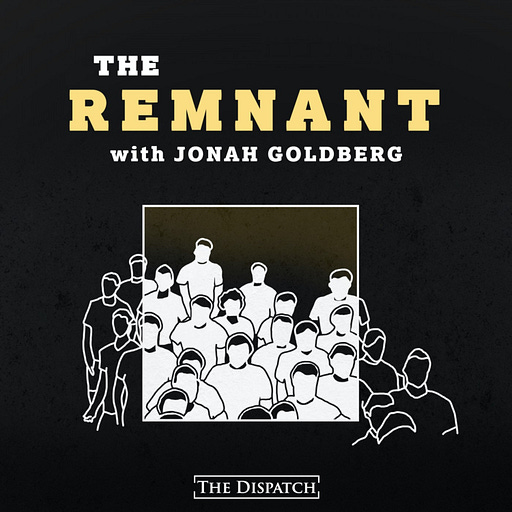 Mar 30, 2021 • 1HR 22M
Check the Owner's Manual
In "The Remnant," Jonah Goldberg, the founder and editor-in-chief of The Dispatch, syndicated columnist, best-selling author, and AEI/NRI Fellow enlists a "Cannonball Run"-style cast of stars, has-beens, and never-weres to address the most pressing issues of the day and of all-time. Is Western Civilization doomed? Is nationalism the wave of the future? Is the Pope Catholic? Will they ever find a new place to put cheese on a pizza? Is Die Hard a Christmas movie? Who is hotter: Ginger or Mary-Ann? Was Plato really endorsing the Republic as the ideal state? Mixing history, pop culture, rank-punditry, political philosophy, and, at times, shameless book-plugging, Goldberg and guests will have the kinds of conversations we wish they had on cable-TV shout shows. And the nudity will (almost) always be tasteful.
On this episode, it's déjà vu all over again as Chris Stirewalt returns - this time in the guest seat. What do Georgia's new voter laws, Arlen Specter, mandatory voting, The World According to Garp's infamous "tongue scene," Henry VIII, and Robin Williams' illustrious career in drag have to do with one another? Well, the guys talk about all of it and more in this edition, and hopefully it puts you in a mood to believe that the living will not, in fact, envy the dead - "at least at the margins."
Show Notes:
-Chris' recent Remnant with Daron Shaw
-Jonah: "Voter Apathy Isn't a Crime"
-Obama: the filibuster is a "Jim Crow relic"
-Jonah's love of Arlen Specter
-Was the 1960 election stolen?
-Jonah "The Center is a Lonely Place to Be"
-Jonah: "We Have Two Moon Parties, No Sun Party"
-Patriotic Grace, by Peggy Noonan 
-Boehner and Obama's bad bromance
-Jonah: Congress is a "parliament of pundits"
-Revolutions Podcast - The English Civil War
-Divided We Fall, by David French
-James Kirchichick: "Why White-Nationalist Thugs Thrill to Trump"